Try Again Kid: Resources for Resilient Parenting
Try Again Kid: Resources for Resilient Parenting

A Spiritual Journey to Ordinary-ness
Today was my son's first day of third grade. It's a big year for his development. He's set to become more independent- doing more chores, paying attention to his own needs, being responsible for his commitments and plans. As a parent who is constantly self-evaluating my guidance, I'm hyper critical of my own helicopter-like moments. This is when I get in the way of both his successes and his failures. If he feels successful, I try not to dole out a bucket of praise. And when he fails, I try not to catch his tears.
He's got to learn to fail.
When I've set up my PinBox 3000 Art-Cade, you'd be surprised how many times I've heard kids try it for the first time, launch their first marble, miss the flipper button, watch the ball drain out, and then say, "I'm terrible at this". All within the first 1.5 seconds.
My response is: "If you had though that when you were a baby, you'd still be crawling around on all fours." It's a bit harsh, but hidden in the comeback is a challenge. Suck it up and try again.
Failure is essential to growth. So try again.
Here are two books that I'm recommending to all parents who want to raise independent kids who aren't afraid to fail fast.
Educators and designers who want to have a lens of empathy when guiding kids through differing levels of success and failure.
The Self-Esteem Trap by Polly Young-Eisendrath, Ph.D, is the kind of book that could be the go-to parenting guide for this generation of parents. We GenXers should not blame ourselves for all the wondering and wandering about we did before we had kids. Some of us (white kids) were raised in environments of praise, so naturally praise our kids, and in doing that, we tend to go overboard, creating an inflated ego where kids begin to feel they can do no wrong and are entitled to "anything they can dream". (possibly at the expense of others) Well, NEWS FLASH- It Ain't Like That.
The right amount of failure is needed to help kids understand....
The world does not revolve around them
They should get back up and show some grit
They can figure out many of thier own problems
Being Ordinary is OK
That last one hit me like a ton of bricks.
Having been raised in the era of "if you can dream it..." we've forgotten as a culture that helping others, being a reliable friend, and showing kindness are admirable and worthy goals in of themselves. Giving your kids permission to fail, to be ordinary, to show kindness, to show emotion- these are key to developing independent humans, who will hopefully stop handing you thier garbage or their dirty laundry, both literally and emotionally.
"Failures and mishaps teach us about ourselves and about our world-how others see us and what we can expect."
-from The Self-Esteem Trap
Designed for Success (and Failure)
The Design of Childhood: How the Material World Shapes Independent Kids by Alexandra Lange employs each chapter to look at elements of the not-so-designed-for-kids modernity.
Chapter one- "Blocks"- travels from unit blocks to Legos to cardboard boxes to Minecraft, Lange brings her analysis to what makes good design for developmental growth. Failure comes into focus here, just as much as success. The child's tactile engagement of the world via design influences the growth of children in ways that are hard to comprehend. This book threads a historical dialogue that brings us to our present design tastes.
It gave me a lot of ideas about making with my kids.
In the chapter titled "Playground", I was inspired to read about the movement for "Adventure Playgrounds" where kids can experiment with a variety of large-scale materials and real tools to build and design a world of their own without protecting them from elements of bodily risk. Just as the abandoned city lot used to serve as playground, we parents can learn to step away from the kids and let risk-taking come to their own conclusions. If you give your kid a pile of cardboard, do you think you'd be able to not jump in and instruct them?
Its More than Just a Scratch

Not getting in the way of your child's failures doesn't mean that you shouldn't protect them from harm, of course not. But what both books, seem to speak of is an empathetic view of failure that resonates with the growth of the child. This is in contrast to inoculating the child against the pains and groans of daily life.  
We have a lot to learn from this. Let's not be too hard on ourselves either.
Happy parenting!
Supportive Ways to Speak to your Child

"Tell me what is wrong."
"You can use a normal voice (instead of a sad one) so I can understand you better."
"Do you think you could try again, or do you need a break?"
"I think you are very close to solving this problem."
"It hurts to fall, but I think you'd rather try again than quit, right?"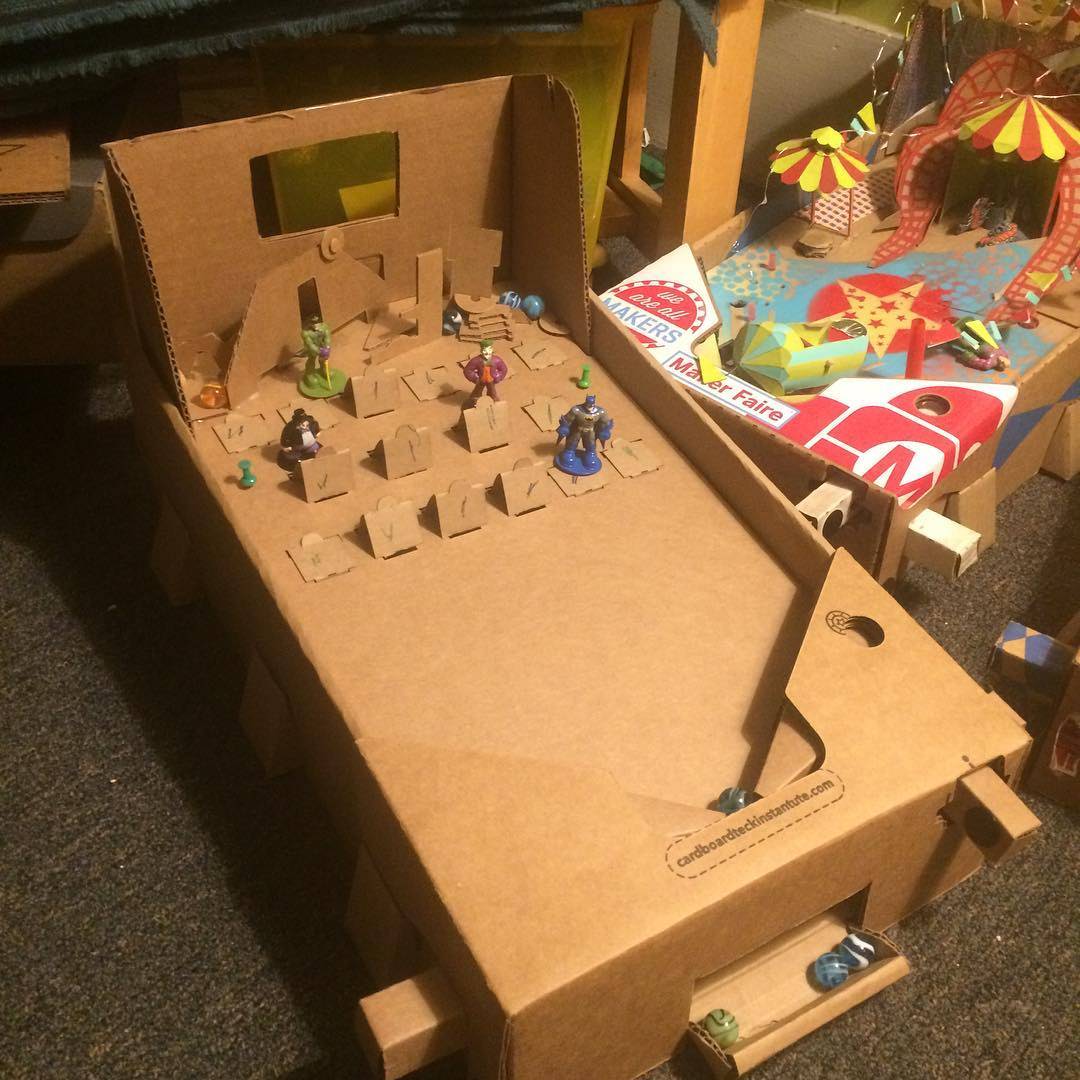 We are building a movement of makers, creative thinkers, and game designers and it all starts with bending cardboard.
Are you ready to Tilt the Future?
Follow Us On Social Media For Lots of Thrilling PinBox 3000 Content!